THE WALL: The Refugee's Path to a New Republic
Excerpt
(Prologue & Chapter 1)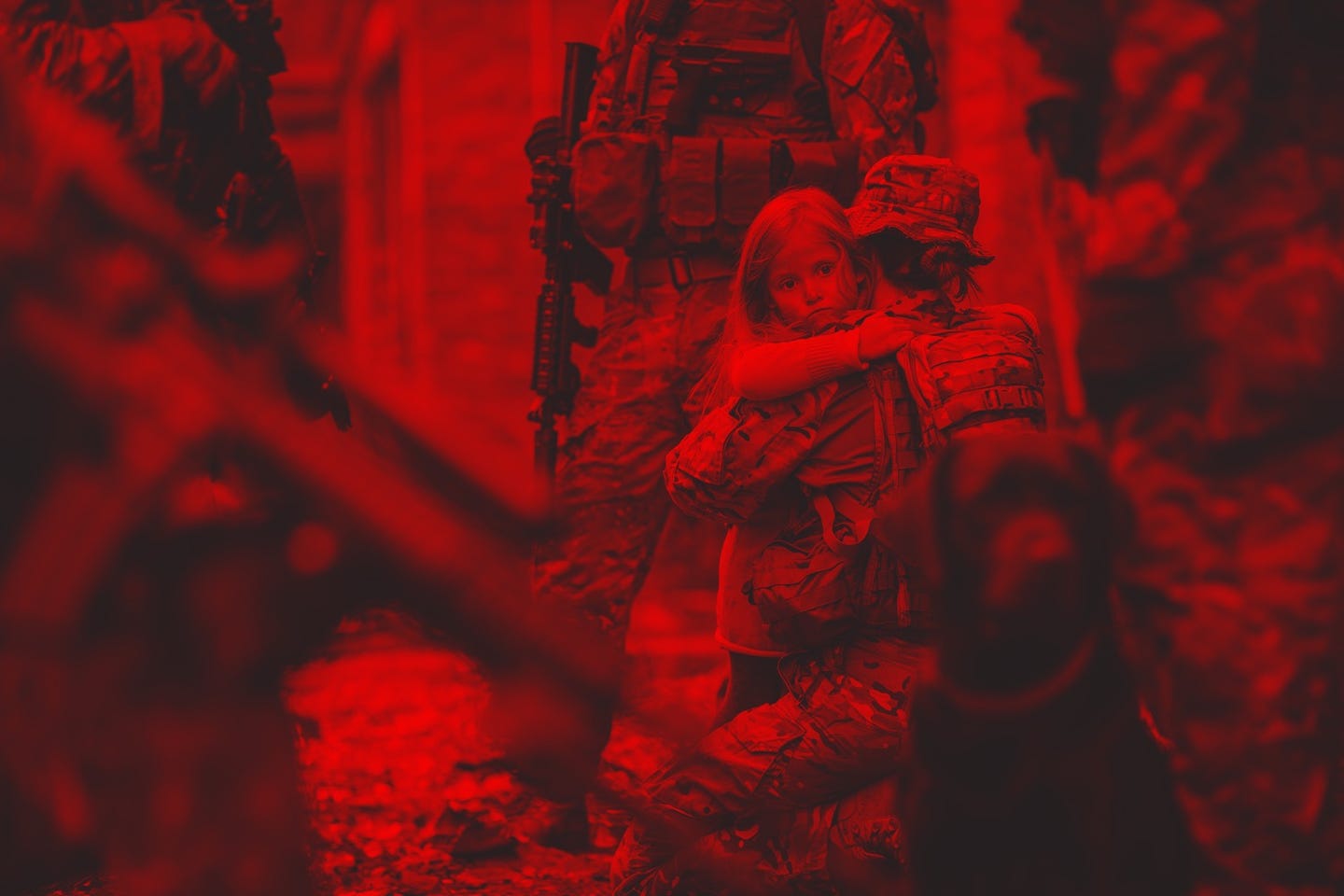 PROLOGUE
Day was just beginning to break.
The desert sands were stained red, like a sea of blood. Hidden
within stood an assemblage of over five thousand individuals. Through the radio one Army man held to his ear, a female reporter's voice continued describing the situation in breathless tones: "A week has passed since the caravan has set up their campsite. They have applied for asylum with the US government, but have yet to receive any reply, and are clearly reaching the end of their ropes. As we speak, reports keep coming in of refugees climbing over the wall to reach the
States. America, and the world, continue to watch closely."
At that moment, close to ten media helicopters were flitting about,
the air as intensely charged as ever.
The partition at the border between America and Mexico, dubbed
"The Wall," stood nearly twenty-three feet high and spanned dozens of miles, with steel piles (nearly four inches in height and just over one inch in thickness) placed at around six-inch intervals.
" . . . Citizens of the Central American country of Cordova are fleeing the dictatorship of President Gumersindo Cortázar, as well as the brutality of José Moreno and his narcotics cartel, Los Eternos, with no end in sight for the mass exodus. Over ten thousand have fled this year alone, and that figure will only increase. In response to overwhelming pressure from America's far right, US President Robert Copeland is refusing to allow them entry. Troops have been dispatched in order to prevent them from setting foot on American soil . . ."
The copters overhead dipped lower.
US Army Captain Jadon Green, commander of the troops guarding The Wall, set the radio away from his ear and raised the volume. The tension was excruciating; the young men of arms were teetering on the brink. One faint spark could be all it took to light the powder keg.
Gazing ahead, they could see the expanse of the Mexican desert between The Wall's giant steel piles. The scene on the ground was reminiscent of a Middle Eastern refugee camp, with countless tents large and small. The asylum seekers had already been eking out a life there for a week, and their numbers were growing.
What Jadon had seen in Turkey flashed to mind. The camps of Syrian refugees fleeing the Islamic State. The folks whose hopes for the future had all been swallowed by starvation and fear. The crude tents lined up on the low ground. The all-but-barefoot children begging for food, even amidst the mud on rainy days and nights. Occasionally, the residents of the site would flock to some United Nations or private charity truck carrying relief supplies. The only purpose driving the displaced was to survive another day.
The reporter's voice jolted Jadon out of his train of thought: " . . . Refugees are surging closer and closer toward the border, having walked around 2,500 miles since leaving their home country of Cordova one month prior. Many of them are women and children, and many are elderly. Originally, what they're calling the caravan numbered a little more than a thousand, but its ranks swelled when they were joined by Mexican migrants, and now they're thought to exceed the five thousand mark. Meanwhile, five hundred American soldiers are stationed to face them. The soldiers have their firearms at the ready, yet the refugees continue to advance toward the wall at the border with no sign of being cowed . . ."
As the dawn encroached, a heavy, rumbling moan rose from the distance as the stark shadows were stretching at the red sands' horizon. An altogether new band of refugees that had marched throughout the night was approaching. Soon enough, they'd drawn close enough for the soldiers to ascertain their individual appearances.
The nervous energy seizing the soldiers grew yet more potent. They once again pointed their guns.
"Fingers off your triggers, soldiers," said Jadon. "We're just trying to scare them. Remember, they're not armed. No harm will come to you, so calm down." It did serve to soothe some nerves for the time being, but how long would he be able to keep that up?
The crowd, which was dyed as red as the desert, kept closing the distance toward The Wall, planting fear into the young soldiers' hearts. Before they knew it, the refugees who they thought were still asleep had gotten onto their feet too. In a blink, the scarlet sunlight from beyond the dunes had given way, and a great throng was flooding the other side of The Wall.
Several men ran up to the partition and began climbing. The number of refugees sticking by The Wall kept increasing, until they outnumbered the soldiers many times over. They held ladders and ropes with grappling hooks by the plenty.
"The people at the head of the Caravan are advancing up The Wall," stated the radio excitedly.
"Masks on, soldiers," said Jadon. "Use the tear gas."
At his orders, dozens of tear-gas bombs were launched. Angry roars came flying, but the refugees were not deterred. Instead, they ran toward The Wall, clinging to it in their thousands and setting upon the ascent. The soldiers defending The Wall were ready to defend their country, while hoping it would not come to a confrontation.
Then, a gunshot pierced the air. Every soul stopped in its tracks. The only commotion, the whir of the copters. Yet before the ringing of the first shot had even gone, it was joined by a whole host of automatic weapons. The gunfight was now underway.
"Hold your fire. That's an order!" screamed Jadon, but his voice was drowned out by an unholy combination of wrathful bellowing, anguished cries, and bullets unrelenting.
The soldiers were flustered, and in the confusion, all too many just kept firing. The refugees were beating panicked retreats now, but the hail of bullets felled women and children without mercy.
"Stop! Stop firing!"
Behind the soldiers, Jadon fired a handgun into the sky. Just like that, the storm ceased.
Firearms still hot in their grips, the soldiers gaped dumbfounded. It seemed they'd returned to sanity.
It had taken a little over ten minutes for the Mexican side of The Wall to be drenched in the blood of the hundreds who now lay prone on the grit. Everywhere there was weeping, moaning, shrieking. One of the cries rang out over the din; a man raised an infant girl up for the sentries to see. Blood was dripping from her head, tinging the man's own head in red.
"America's killed my wife and daughter," he cried. "They are the devil. I will have my revenge. I will kill you all."
A woman was crumpled at his feet, bleeding from the chest and abdomen. Jadon could only stare in disbelief.
Meanwhile, at the Oval Office . . .
President Copeland was looking over the script of a speech he'd be reciting at a dinner party to which the UK ambassador was invited. Would it be a bit gauche to add a joke about how leaving the EU would definitely solve the immigration and refugee problem?
That was when Chief of Staff Albert Campbell barged in, passing by the president's desk without a word to turn on the TV.
"What the . . ." the president found himself murmuring. Then, he turned pale.
"It's the bit of The Wall 12 miles east of El Paso. CNN's got the footage." Campbell raised the volume. Gunshots resounded in rapid succession, while thousands on the Mexican side ran away in all directions, and hundreds lay bloodied and broken. "There's been a shoot-out at The Wall. The body count is suspected to be over a hundred."
"Have them stop firing this instant. I ordered nothing of the sort!" "This isn't live. It's already over."
The president looked back at the screen. They were now showing medical orderlies frantically running around, with voices audible from the studio.
"The acting commander ordered them to cease firing the second they started. But the fire lasted over ten minutes."
"Who shot first?"
"We're looking into it."
If we fired first, then . . . Then everything's going to spin out of control.
But Bob swallowed those words. He was going to get blasted by his constituents, his rivals, and the international community. This was a massacre, plain and simple.
"Call the secretaries of defense and state. We're holding an NSC meeting," said Bob, rising from his chair.
But he froze when he saw who was at the door. It was his daughter Patricia—who'd recently turned thirteen—stiff as a board, eyes glued to the screen. No doubt she'd overheard their conversation too. Her gaze turned to her father.
"Go to your room. I told you not to come here; I work here." He didn't mean to sound that harsh, but that was how the words came out.
Patricia dropped the file she'd been holding, and the photo of the puppy born just last week fell to the floor. That jogged his memory: She'd told him all about it over breakfast, and he'd asked her to show him. She snapped out of her dazed silence and broke into a run. "I hate you!"
That remark stabbed deep into his heart. He saw the tears welling in her eyes. She was a smart one, with an interest in politics. The full gravity of the situation couldn't have eluded her.
The "Tragedy at The Wall" was made known to the world in real time. One hundred fifteen Cordovans were dead, 332 injured. Zero Ameri- cans were dead, eight injured.
The media and press were unanimous in decrying Washington. In addition, Captain Jadon Green was now the object of scorn and ridicule, reviled as the Border Butcher and the Killer Commander. Had he been court-martialed, he would have faced the distinct possibility of a life sentence, but he was able to secure a plea bargain at the inquiry commission thanks to his old superior, Colonel Stewart Gobel. Jadon acknowledged his own folly and his lack of experience. The military wanted Jadon disposed of as quickly as possible, so they slapped him with a dishonorable discharge. Now that that was on his record, depending on the state, he couldn't vote or bear arms. In short order, the Tragedy had been chalked up to the grave error of a single captain, absolving the military as a whole.
The White House promptly conducted polling to better grasp the extent of the fallout. In a day's time, President Copeland's approval rating had plummeted 15 percent (from 52 percent to 37 percent). And the only reason it wasn't even lower was because of the press conference he set up right on the incident's heels, wherein he expressed his condolences to the victims and declared he would get to the bottom of the whole affair. At the same time, he stressed the rule of law in not allowing entry to the refugees who'd tried to storm their way over.
The invective that had dug under his skin the deepest remained Patricia's "I hate you!" Even now, he could see the tears glistening in her accusing eyes.

* * *

Meanwhile, over in Cordova, dictator Gumersindo Cortázar wasted no time addressing his nation after he was apprised of the first reports: "Don't run from your country. The Americans will just slaughter you. The only country for Cordovans is Cordova. The only country for Cor- dovans is right here. This is your heartland."
Following that speech, almost no one dared leave the dictatorship anymore.
1 THE DESERT WAR ROOM
No sooner had Jadon entered the room than his phone rang.
He gave the screen a once-over before putting it on the table and disrobing his mud-stained outerwear. Then he pulled a can of beer out of the drugstore paper bag and chugged it all down. His body absorbed the alcohol. His muscles were tired, but he didn't feel like falling asleep.
He'd just wake from his nightmares in another cold sweat.
The room was in a motel in the LA burbs. Voices from the neigh- boring rooms passed through the walls as if they were made of cardboard. He turned on the TV and put it on mute.
A week had passed since he started working construction at this place. Ten-hour days, $170 a day. It was the only job he could come by while keeping his identity hidden. Such was the fate of former US Army Captain Jadon Green, ten months and counting since he left the military.
The moniker of Border Butcher had gained more traction than he'd expected. He'd been forced to change jobs nine times now.
One place, he'd even gotten canned the day after he started working. The boss there simply placed a paper on his office desk, giving Jadon a defiant look all the while. Needless to say, the paper featured an article with Jadon's photo. Jadon had to swallow the sudden urge to punch his lights out, but he balled his fists and bore it.
The internet was virtually plastered with photos and articles. Hundreds of the dead and injured, splayed and fallen before The Wall's steel piles, and more than half of them were women and children. Some of the corpses even had bullet wounds through their heads. And behind the soldiers stood Jadon Green with his handgun, shooting into the sky. To the world, it looked as though he'd been encouraging them to fire.
They'd needed a scapegoat to pin the blame on, naturally. And he just happened to fit the bill. Still, he didn't care to make excuses. Or rather, he couldn't make excuses. He'd been the captain there. That was the plain truth.
After draining another beer, he grabbed a bottle of whiskey off the table and partook. Only, he didn't really "partake" so much as he used it to wash it all down. Maybe it was the soldierly discipline, or whatever was left of it, that kept him from drowning in more than a certain amount. Maybe it was more out of consideration for his four-year-old daughter . . . and the child support he needed to dole out.
Ever since the day of the incident, the media and morbidly curious onlookers alike camped around the Green family home, waiting for their prey to exit. Trolls and harassers made sure their phones rang nonstop, night and day, while their tires kept getting slashed. Some nights, a stone or two would be thrown through the windows in the wee hours. Paulina had been three at the time. Every night, she'd cry. Every night.
That wasn't even getting into the swarm of countless letters and emails. Some of the mail contained box-cutter blades. The paranoia was intense. The slightest bump in the night would cause Paulina to jolt awake and burst into tears. Shirley would hold her tight and cower with her in a corner of the room.
Eventually, Jadon had the two take refuge in his in-laws' home. The first two months, he called every day. All the while, memories of that day would attack unbidden whenever he had a moment to think in his own home. And his insomnia only grew worse and worse. In his dreams, claws would reach out from between the gaps of The Wall. There had even been times he'd wake himself up shouting, begging them to stop.
It wasn't long until he turned to booze. And the phone calls, they went from once every other day, to once a week, to zero from his end. Six months later, the divorce notice came in. He couldn't blame Shirley. He signed it and delivered it the very next day.
The smartphone on the table began ringing again. This time, he grabbed it reflexively.
"Finally picked up, huh?" Shirley said. "I called more than ten times. The child support bank transfer still hasn't come in yet. Are you still sending it to your old friend? Because let me tell you, it's the military that made our lives such a mess. And it's Paulina who pays the price. Not that I don't, either. You want to see her, don't you? Then take responsibility and . . ."
Shirley kept talking his ear off. Jadon took the phone from his ear and found he could still hear her. This was not speakerphone.
Then, the doorbell rang.
Jadon set the phone on his bed and threw on his jacket, looked through the peephole, and opened the door. There stood a gray-haired, tall-figured man in Army uniform. His face was sun-beaten, with a scar from his right cheek down to his neck thanks to a bullet in Iraq.
"Do me a favor and put away the gun, would you?" he said, his voice deep.
Jadon dropped the pistol's hammer, and stashed the gun in his belt.
Colonel Stewart Gobel was Jadon's former superior. For whatever reason, he'd held Jadon in high esteem since the young man joined, keeping in touch even after changes in unit makeups. He went so far as to defend Jadon, pulling strings so he could avoid getting court- martialed, on the condition he be discharged.
"Nobody who comes a-knocking means me well."
"Has it been three attempts on your life, now? You handled them all pretty well, seeing as the police never got involved."
The first time, he was attacked in a back alley. The second, in a restaurant restroom. A bunch of young men had gotten all worked up, declaring in their rage that they'd kill America's mark of shame, the Border Butcher. One got his right arm broken, while another lost a few teeth from a trip to the toilet bowl. The rest ran scared. The third attempt, the most brutal of them all, took place two months prior. He'd been eating at a coffee shop when, suddenly, a guy came at him with a steak knife. He'd gotten gashed in the arm, but managed to steal the knife and thrust it at his assailant's throat. He was an old man. A very old man.
"Go ahead, do me in. That way you'll get the chair, Border Butcher!" he'd crowed hoarsely. Jadon tossed the knife, paid his bill, and left.
"What do you need?" said Jadon.
Stewart was scanning the room. "You should've given me a shout. I could've helped you out."
"You already know plenty about me and my post-retirement lifestyle. You're always watching over me so I don't screw up again, aren't you?"
"Don't feel so sorry for yourself. I know full well you're stronger than that."
"You're giving me too much credit. I wasn't qualified to be a captain. That's why it happened. So I'll keep staying out of the Army's hair."
"You need money."
"So you know about the child support too."
"And how you're sending money to an injured subordinate. Your being broke is what's behind the divorce, if I'm not wrong." Stewart heaved a light sigh and looked square at Jadon. "We're talking $25,000."
"You really do know everything about everything."
"That's why the US military is the strongest in the world. And why it's here to stay."
"Well, you may be under the impression the military is high-grade goods, but you know the name of the guy who kicked down its market value."
"Some rich lady stuck it onto a teddy bear. Some have even said they'd try to buy it back. The US military's high honor, stomped on by money."
He was referring to how Jadon had sold his Silver Star Medal online, sending all the money to his injured subordinate. That was another inciting factor for the divorce.
"It was just a hunk of metal."
"But what it represents is sacred."
"Is that why you bought it back?"
"I was against it. You used the Silver Star to the maximum benefit it could provide. Instead of showing it off for the sake of your own honor, you tried to save a friend. It's one of the reasons I've always believed in you. And no matter what form it may take, honor should be granted to all who have devoted themselves to their country," said Stewart, staring.
"The Army must have way too much time on its hands, if you know this much."
"If you come here tomorrow morning at eight, $100,000 will be transferred to your account. If you complete the work, that's another $500,000. It'll be a twenty-day gig."
Stewart took out some memo paper. Jadon didn't extend a hand, so the colonel stowed it in the breast pocket of the work shirt Jadon had on.
"I'm not a soldier anymore, colonel. I'm not taking your orders."
"Just hear me out. You can turn it down if you want. And you won't have to send back the 100 grand, either."
"I lost everything because of orders from on high."
"Not everything. You've got a head on your shoulders and muscles to work with. Both of which I whipped into shape."
"Why don't you do it, then?"
"I would if I could."
Stewart raised the cuff of his pants, showing his prosthetic leg.
Jadon had heard the man had gotten wrapped up in a terror attack in Europe. Stewart patted Jadon on the shoulder, and then left.
Jadon closed the door and tossed the memo paper in the bin. He checked his phone. Voicemail.
". . . not listening to me anyway. Hope you're ready to never see Paulina again, then. Don't bother calling, either."
"I'm working as hard as I can to send—goddammit!"
Jadon threw the phone at the bed.
He went to the window and peeked through the curtain gap at the parking lot. Stewart was strolling over to a black sedan. Before getting in, he shot his room another glance. Flustered, Jadon hid.
Sitting on the bed, he mulled it all over. Then he got up and fished the paper out of the trash.

* * *

The next morning, he was at the designated airport, Van Nuys. When Jadon arrived at the boarding gate for private jets, a man in a dark blue suit drew near. He tried to pick up Jadon's bag, but he rebuffed him. Jadon followed him out onto the landing strip, where, sure enough, a jet was idling, ready to take off at a moment's notice. Standing next to the boarding ramp was Stewart.
When he caught sight of Jadon, Stewart began climbing up the steps without a word. Jadon followed suit.
After Jadon settled in his seat, a cabin attendant carried a tray his way. On it lay a can of soda, a proof of bank transfer, and a receipt.
"No more alcohol for you. I sent Shirley $100,000 in your name. Just sign your name on the receipt. The Boss is the methodical type."
Stewart knew Shirley. When the two got married, Stewart had been in Paris, so he sent a bottle of champagne.
After graduating from West Point, Stewart Gobel served extensively in Afghanistan and Iran before he ended up working at NATO Headquarters in Brussels. It was on vacation in Nice that he got caught in a terrorist blast. At present, he was working for the Army chief of staff in DC.
Jadon stopped himself from asking who the Boss might be. It had nothing to do with him, surely.
"Hand over the phone, please. The operation's already started."
"I never said I'd take it up."
"It's just so that we don't give away our position. I'll give it back to you once we return. Think of it as being part of the $100,000."
The jet was flying east. Beyond Los Angeles, the desert sands sprawled in all directions. In about an hour's time, they began the descent.
"This airport . . ."
"It's called Basin Sands. Hasn't been in use since Las Vegas Airport started operating. It's largely unknown," said Stewart.
Jadon looked surprised. "I've seen photos of it, back when I was looking for a place to do desert training exercises."
Stepping onto the exit ramp, Jadon was instantly enveloped by that distinctive desert heat. A limo was idling in wait below.
The car zoomed along a stretch of road, one that would have led to Las Vegas in thirty miles going straight, but at one point they veered south. Sometime later, a fairly dilapidated hotel loomed ahead.
Soon, they entered an underground lot, where dozens of other cars were parked. Among them a large fuel tanker and two in-service electric generator cars.
They took an elevator to the first floor, and when the doors opened, Jadon froze. The space was a huge dome, bustling with both people and the latest electronics. And in front, a 100-inch screen, displaying a vista of gorgeous greenery. An aerial photo? No—it was a satellite hookup.
The dome was divided into two sections. Over in one end, a giant, U-shaped table was situated, with around twenty seats and a small monitor set up at each of them. Over in the other end sat dozens of personal-use desks in a line, each laden with piles of documents and a computer.
Two sets of three zeroes were displayed in the digital readout above the large central screen.
"It's a digital clock that started when the operation did. It's got the date and the hour," said Stewart, noting where Jadon was looking.
At the colonel's prompting, Jadon set foot inside the dome.
Some maps and a scale model lay atop the U-shaped table. "They're maps of Cordova and its capital, La Caridad, right? And that model's the Presidential Residence."
"I imagine that, in your eyes, Cordova took everything from you,
and thinking about it can't be terribly pleasant."
"What're you up to here?" said Jadon, turning to face him. "Welcome to the War Room." A young man in a T-shirt and jeans (and some files in hand) called out to him, stopping next to him. "Hey, you're not the Border Butcher, by any chance?"
After the young man hollered behind him, Jadon could feel stares from all around the room.
"So the main player's finally showed up. Guess the operation's starting in earnest."
Stewart gave a very confused Jadon a push on the back, and together they strode forward.
"That idiot's Billy Ganaway. They let him out of prison while he was still serving time, just for this mission."
The man had been arrested three times for hacking institutions such as banks, IT companies, and even the FBI—which was his third strike. Stewart explained how, after Billy got a sentence of seven years behind bars following the FBI hacking, the man had come here on a deal offered by the Department of Justice.
Jadon had heard the name before. He remembered the headlines. "Mad Lad Billy." "Billy the Brain."
Jadon subsequently followed Stewart up to the second floor. Once there, he could see down the entire hallway.
"We actually started in earnest about two months back. Finding you was what took the most time."
Jadon turned to look behind him; the source of that voice was a man in a wheelchair. A man whose face rang some bells. He wore a well-tailored suit that fit his frame to a tee, but the creased trousers and sneakers were out of place.
"Wait, I know you . . ."
"Hello, Captain Green. My name is John Olson."
John offered his hand. Jadon shook it, only to find the man's grip was weak.
John Olson was the CEO of the world-famous ICT juggernaut,
PathNet, and while he'd once been all over TV and magazines, he seemed reclusive as of late. Was his health declining? The John Olson that Jadon recalled was a fearless and intrepid man—a talented IT technician, global-scale businessman, and consummate athlete all in one. He'd even heard John used to play tennis with President Copeland, and that they were very good friends.
"I take it PathNet's moved house to the middle of the desert?" said Jadon.
PathNet, headquartered in San Jose, was a developer of database software for businesses. Its main office tower had been used in several Hollywood movies for exterior shots of a futuristic-looking building. John had founded the corporation while in his twenties. Through its innovative lineup of products, it gained enough market share to constitute half of the database market by the early 2000s. PathNet currently ranked second in terms of software company size. Its annual sales had reached the 40 billion dollar mark, and it employed 120,000 people worldwide. John himself, meanwhile, possessed total assets in excess of 32 billion dollars, making him the fifth richest person on the planet.
"Six months ago, I retired and became the Adviser to the CEO. They call me the Boss around here."
"Well, I'm not a captain anymore. Just a laborer."
"Just call me John, then. I never cared to go by the Boss. I'll call you Jadon," he smiled. The man was still in his late thirties, but over half of his hair had grayed, making him look as old as fifty. And there was always something doleful and depressive in his expression.
"What are you here to do? The central screen is satellite footage. That's military-level stuff. Accessing that doesn't come easy."
John didn't answer his question. He just shifted his gaze down the stairs. "The middle-aged guy in the glasses, that's Professor Eugene Kowalchuk. He won the Nobel Prize in economics five years ago. The blonde lady by him is a UC Berkeley psychologist named Liz Watson. The guy making a pass at her is a political aide to the former president, Tim Daniels. The muscley one in front is—"
"Nick Beasley. I know him, he's got a training company for mercs. I've seen him around, but we've never spoken," interrupted Jadon.
"Yes, he's the mercenary man. And we have communications, infrastructure, and education experts here, to name a few. Their staffs are here too . . . all assembled for this little project."
"Yeah, well, it looks like a zoo to me. You've got all the hot and trending new species. Though I guess you've got some moldy oldies cooped up in here too. What's this mismatched menagerie plotting, anyway?"
At that, John shot Stewart a quizzical look, before his eyes squared back on Jadon.
"We're going to take down the Cordovan dictatorship, and help build a new nation there." John straightened out his back a little, and stared right into Jadon's soul. "We're not just going to run roughshod over the country. We're going to leave it better than it was before. Create a better future. This is the Revolution Project for a new age, and I want you to lend a hand."
"I'm just a soldier. Or rather, I used to be. And from where I'm standing, you people are nothing more than a wrecking crew. Surely this zoo has no need of an endangered species like me."
"A wrecking crew is only ever there to pave the way toward progress. And you'll be one of our key men."
"That glorious war of yours exists only in your head. Meanwhile, it's the men in the field who fight and die."
"That's why we need you. You're the one who can keep that tragic reality to a minimum."
John just kept boring a hole through him. Jadon could sense something in those eyes . . . some higher cause that went past mere commercial gain.
"I want you to hold the reins at the field of operations. According to Colonel Gobel, you're the most capable and dependable of all the men he's trained. With your help, we'll train the Cordovan Revolutionary Army, defeat President Cortázar and the drug lord Moreno, and establish a new nation. Plans have already been made for the reconstruction phase. To that end, we must rescue revolutionary leader Luis Escárcega from the detention center—"
Jadon put his pointer finger to his lips. "Shh. Stop. I've heard enough. I'm not onboard, and I'm going home now. I only came to begin with because I was told I'd be given 100K to hang for a day."
John looked surprised. Stewart just silently looked Jadon's way.
"According to Colonel Gobel, you're the most patriotic guy around. America believes in justice, and sticks to its principles. Help us help America."
"I lost everything for the justice that America preaches. I've lost my friends, my convictions, my money, my family, and myself. So if you ask me, I've already fulfilled my duty as a US Army officer."
Jadon turned to look at Stewart with defiance in his eyes. Stewart lifted his shoulders in an exaggerated shrug, and looked down at the floor.
"You mean to say you have no interest in saving the people of Cordova?" came John's deep voice.
"The people of Cordova are on their own. Look how readily they abandoned their home for the promise of a better living, never sparing a thought to how that might impose on other countries. America gets hit by another hundred thousand or more undocumented immigrants every single year. And the same thing's happening all over Europe too. They just come flooding into richer countries, soaking up taxpayer money while the citizens bear all the strain. Can you blame people for being angry?"
"Cheap labor and diversity are what prop America up. They're why America has come to such prosperity. Also, I don't know if you know this, but part of the reason those immigrants' countries are in turmoil is thanks to the fight for hegemony by Russia, China, the powers in Europe, and yes, America itself. There have been countless proxy wars, where each side was funded, armed, and egged on by a different competing faction on the world stage, all for the sake of their own national interests. You've got to be humbler, more generous. Otherwise war will never vanish from the face of the Earth."
Jadon had no comeback. All of those things were already in the back of his mind. He vividly recalled those rows of tents in that barren moor. He recalled the single tent where a family of nine (the grandparents, the married couple, and that couple's kids) lived day to day. All they'd ever been provided was a little water and food to survive for the next few days. Half of which they had to sell in order to cover living expenses. When the food inevitably grew scarce, the children would go perpetually hungry. He remembered the people begging for United Nations food aid. The United Nations officials throwing bags of food off the tops of trucks. The folks pushing away children in order
to wrestle for the bags. Jadon had always viewed that desperation from the sidelines, but not without a measure of discomfort.
I'd never let my children or family starve. I'm not like them.
Jadon shook his head slightly and banished those thoughts. "War drives men mad and robs them of their reason. I've had enough for a lifetime," he muttered.
"Do you know how many refugees there are in the world?" asked John calmly.
"I'll be just fine if the ones at The Wall are the only ones I ever know."
"Seventy million. And that number's only getting bigger by the year. Persecution and dissension all over the world are driving people out of their hometowns and countries."
"I wouldn't run. I'd fight."
"Do you want the women and children to fight too? Without weapons or organization? If they fought, all they'd succeed in doing is die in greater numbers. But I'm with you—instead of focusing on taking them in, we should focus on giving them their homelands. Secure, reborn homelands where nobody starves." John's staring eyes brimmed with sincerity. "Please help us, if for no other reason. We want to help them build a homeland they don't have to abandon. A homeland they can live in with safety and pride."
Again, Jadon had no response. Was all that possible? I'm nothing more than a powerless former Army man. I can't protect my own family, let alone sway the fates of nations.
Then, a man with an eyepatch and crutches drew near. He had keloids over half his face. "I'm Antonio Alvarado. I fought alongside Professor Escárcega on the front lines of the revolution as a member of Nueva Cordova. Then I escaped from Cordova after Professor Escárcega was captured by the government half a year ago, and left for the States. President Copeland has acknowledged my asylum," he said, before heaving a deep sigh. He'd managed to get all of that out at once, in spite of the pain evident on his face. "My family was tortured and killed, and I lost my right leg and eye. The bastards even murdered my daughter. She would have turned four years old the next day."
Four. The same age as Jadon's daughter, Paulina.
"Don't you know who I am? I'm the Border Butcher. I couldn't put a stop to the massacre. I'm not qualified as a captain. I'm just so tired of playing soldier. I don't want to see any more bloodshed. It's your country. Fight for it yourselves."
"I agree with you. People should always fight before running. If they didn't run, you might not have ended up with a name like the Border Butcher. But people have their reasons. The Tragedy at The Wall was a terrible massacre, but that doesn't mean I hate you. You tried to stop it."
Jadon remained silent. He could sense the conviction in Antonio's eyes.
"I fought for my country with everything I had," he continued. Then he thrust his right hand toward Jadon. It was missing three fingers. "We love our country too. For the sake of our children and the next generation, we want to make it a safe and prosperous place, where there's no need to escape to begin with. And we'll stake our lives and bodies to do it."
"Building a country where the kids don't need to run, huh? Sounds like a fine idea. Do your best out there." Jadon shifted his gaze to John. The man in the wheelchair looked dauntless and fierce, his features sharp, but at the same time, his expression radiated a gloom that didn't scream "former CEO of a global-scale corporation" or "super billionaire."
"Something tells me you're not giving me the full picture. Not when you've got thirty billion in the bank. You're sponsoring and spearheading the operation, but why? What's in it for you? It's dirty work, and it's not exactly in your business empire wheelhouse, either. Yet here you are, going out of your way to sink money into some third- world country."
"If I tell you it's out of sympathy for Antonio, you're not going to believe me, are you?"
"Damn straight I'm not. This whole thing is too big to be some billionaire's pet project—not to mention dangerous. We're talking about overturning an entire country."
"A task I was given by President Copeland, who's an old friend of mine. Ever since the Tragedy at The Wall, he's been hurting a great deal. I'll bet it's the same for you. So many were injured and killed by America's indiscretion—and you're one of its victims too. There's only one way to prevent such an atrocity from ever happening again—we free the people of Cordova from the dictatorship and the cartel. And despite the righteousness of our cause, we can't go public with the operation."
John's already pallid face turned whiter and his breathing grew heavier. Try as he might to continue making his case, Stewart wheeled him aside and stood in front to face Jadon directly.
"Half a year ago, several people who'd fled Cordova came to see the president. Antonio's one of them."
Antonio had been one of Professor Escárcega's pupils, as well as a lecturer of political science at Cordova University. He held Luis in high esteem, and joined him in the struggle against the dictatorship.
"They're the ones who asked President Copeland to help them build their Nueva Cordova, and he was deeply moved by their plight. But he can't mobilize his own country's military to intervene in another country's affairs. Loads of people and governments don't think kindly of American interventionism. That's why President Copeland had to ask John."
The plan to revitalize and regenerate Cordova, named Operation Caravan, was proceeding by covert order of the president.
The events of the last year flashed before Jadon's mind.
"Ever since the Arab Spring," said John, "dictatorships have fallen, but left quagmires in their wake."
Beginning with the Jasmine Revolution in Tunisia in December 2010, the movement to topple dictatorships rippled throughout the Arab world. Up until that point, monarchies such as Saudi Arabia, Morocco, and Jordan—as well as the republics of Egypt, Syria, and Libya—had been subject to the politics of dictatorships backed by military force as a matter of course. The offending governments had maintained power through surveillance and suppression, resulting in ever-widening income disparity. The protests and demonstrations of the Arab Spring managed to take down some oppressive regimes, but without much by way of a philosophy for what the new nations should look like in place of those regimes, a power vacuum emerged, and with it, chaos and confusion.
"To avoid anarchy and unrest, and to prevent the rise of some other dictator, we need to lay the groundwork for the new nation that's to be built in place of the old. A new nation based in freedom, democracy, and economic independence. That is the new revolution, and the aim of this mission."
"It's just never gonna work out that way. You're not a politician. You're an engineer and a corporate manager. A country ain't the same as a business."
"They are the same. The plan is as tight and precise as it is elaborate, and the implementation will be equally so, all thanks to the latest AI technology. It won't be difficult."
Hearing that ironclad confidence pop out of John's mouth, an uneasy feeling seized Jadon's heart. The war in their heads would not be the war that played out on the ground. The war in their heads didn't show all the blood, the bodies, the pain.
"There must be more qualified people than me."
"I'm sorry to hear you say that. I'll have them send you back to LA tomorrow. Please stay the night. The place used to be a hotel. Not a three-star hotel, but it's got hot water."
John extended a hand. His handshake was as feeble as before.
After eating, Jadon and Stewart stepped out on the balcony. Jadon sim- ply looked out over the desert in silence. Red-tinted sands as far as the eye could see. For a moment, the scene at The Wall floated to mind. It had been the break of dawn, but apart from that the red sand vista was similar. Red.
Red.
Jadon shook his head, and faced Stewart. "What's John hiding?" "Nothing. He told you everything."
"Look, I've got nothing to lose, so I've got nothing to fear.
Meanwhile, he's got way too much to lose. Why's he going ahead with this silly little plan? Why's he starting a war? If I'm gonna be taking on this job, I want to know everything. I don't wanna have any doubt in my mind, dragging me down," he said, staring him down.
Stewart returned the stare. After a slight sigh: "Do you remember the Islamic extremist terror attack in France?"
"Which one?"
On July 14, 2016, a man in a truck in Nice recklessly zigzagged over the road for over a mile, killing eighty-six and injuring more than four hundred. He was a French resident born in Tunisia. Eight months earlier, several attacks took place simultaneously in Paris, where shootings and suicide bombings by suspected Islamic State terrorists killed 130 and injured over 350 people. After a string of such incidents, the blowback against refugees and immigrants turned severe.
"The one in Nice. John lost his wife Catrina and his daughter Rose. John himself lost both legs. Those legs are prosthetic. The culprit was a man who'd fled to France."
"What are you hiding? What's your connection to John?"
"Catrina was my daughter. Rose was my granddaughter. When the attack happened, my wife and I were there. Though I got off with just a leg."
"And your wife?"
"Unharmed. But losing her daughter and granddaughter at the same time did a number on her. She kept blaming herself for not being able to save them. Six months later, she overdosed on sleeping pills and died in the bathtub."
For a while, the two looked at the red sands without another word. Jadon could swear the particles of sand were flowing into his body and dyeing it an altogether different hue than his namesake.
"You really want to build a country that doesn't give rise to refugees?"
"I think it's worth trying."
"But we're not obligated to butt into another country either." "Had it not been for the refugee crisis, my daughter and granddaughter would be alive today. My wife too. John and I have both lost the ones we loved the most, same as you. I just have to hope it never happens again," said Stewart, in hushed tones.
Stewart's words spoke to him.
Before Jadon knew it, the light baking the sands had given way to the dark of night.
"Is this the reason you saved me from the court-martial? Why I'm not in prison right now?"
Stewart didn't answer. They just kept staring into the black.
"Even if you die, the money will go toward your family. It's too cold out here. Let's tuck in early. The operation starts tomorrow."
At that, they returned to their rooms.
Jadon couldn't sleep. Every time he was about to nod off, a giant wall would appear in the darkness . . . along with the corpses of women and children with bullet holes through the head, lying in piles alongside his own family's bodies. He got out of bed, sat at the computer desk, and pulled up satellite photos of Cordova.
Tropic vegetation covered over half of the country's land, shining bright in the sunlight. The Pacific lay to the west, and the jungles to the east. It only took about six miles walking across a neighboring country to reach the Caribbean Sea.
Click. The screen now showed research documents detailing information on everything there was to know about Cordova. Though the rainforest's resources and the underground minerals (including rare earth metals) had yet to be gauged with much accuracy, they appeared to be quite promising. According to some sources, if the political situation were to stabilize, and public order restored, companies the world over would rush in. Jadon looked up details on the country's economics, industry, education, and various other fields.
Before heading the dictatorship, Cortázar had been an elite soldier who graduated from the Military Academy of Cordova. When he was a major general, at the age of forty-two, he took over in a military coup, and his rule had persisted for over a decade. Furthermore, he'd consolidated even more power in the subsequent years.
According to the psychoanalysis section, signed off on by psychologist Liz Watson: "He's a brilliant mind, with a high capacity for analysis and judgment, and a steady hand, but he's also deeply suspicious by nature, and he does have his impulsive side. Those inclinations have only grown stronger and stronger in recent years."

* * *

Jadon reached out a desperate hand. His body drifted back, back into the clutching darkness.
Help me. Save me!
But all that leaked from his throat was a hoarse groan.
He was in the desert now, standing, baking. A man materialized, a blood-soaked child held high in his hands. The woman lying at his feet was perhaps the wife and mother. The shouting was most likely excoriating America and the Butcher.
The blackness proceeded to swallow Jadon whole, its dark particles permeating every single cell in his body in the hopes of converting his mass into yet more shadow.
Good. Just drag me to hell already.
A noise reverberated from the bowels of the void, startling him awake. He got up and grabbed the receiver from the desk.
"Did you get a good night's sleep?"
It took Jadon a beat to realize it was John. "Nope. Barely caught a wink, actually. I was thinking about your plan. And about my role in it."
No noise. The man on the other end must have stopped in his tracks. ". . . I'll send someone. Please come with us to the War Room." Less than five minutes later, he heard a knock on the door. It was the wheelchair-bound man himself. And judging by the sweat on his brow, he'd made haste.
"It ended up being me. Have you packed your things? Let's get out of here."
A few dozen men and women were already gathered in the domestyle hall.
John spoke to a captive audience through a mic: "The last piece of the puzzle is here with us. Today, Operation Caravan is officially a go. I'd like each one of you to carry out your mission without forgetting the weight on your shoulders. And never let your guard down. Together we'll establish a new nation, from which the children will never need to flee. May God bless us all."
The digital clock on the wall began to tick. The eclectic team of specialists was seated at the U-shaped table, with John at its head.
"In twenty days' time, we will have retaken Cordova, setting upon the creation of a new nation."
The people who had been summoned here were dressed as they pleased. Some were in white lab coats, some in suits and ties, and some in jeans and T-shirts. Jadon was in the jeans camp, though he had a work shirt on. When he'd been discharged, he'd burned all of his ACUs to cinders. All he had left were his combat boots. They were perfectly natural on him, like extensions of his feet.
The Republic of Cordova was a small country in northern Central America, about sixty square miles in size. It had a handful of islands off its Pacific coast, and its total population was just under eight million. It had obtained independence from Spain in the late 1800s, but the most widely spoken language was still Spanish. Its capital was named
La Caridad, and its main industry was agriculture. Its GDP was below 20 billion USD, less than half the yearly revenue of John's corporation, PathNet. As one of the most destitute nations in Central America, it was designated by the IMF as an HIPC (heavily indebted poor country). Though nominally a republic with a president as head of state, political affairs had been unstable for decades upon decades, with successive military governments coming into power since 1930. In 2010, the president at that time declared a constitutional referendum, aiming to remain president for life. On the day of the election, however, the military sprang a coup, with then-Major General Cortázar instated as interim president. The military currently employed twelve thousand troops, seven thousand of which comprised the Cordovan Army. There was also a presidential elite guard regiment that reported directly to Cortázar.
"Cordova is ruled over by former military darling Gumersindo Cortázar," stated Stewart, using the diagrams and photos projected on the giant screen as aids. "More than half of the nation's budget goes toward strengthening the military by way of arms purchases. In terms of force of arms, Cordova has its bordering nations beat. Those nations, fearing retaliation, refuse to allow in fleeing Cordovans."
"With regard to his mental state," came Liz Watson's voice through the speaker, "Cortázar's the paranoid sort. He's unforgiving and vindictive, and he doesn't trust his subordinates as far as he can throw them. He's already executed twenty or so close associates, and he always surrounds himself with blood relatives. As you might expect from maintaining power for this long, he's no dummy, and he knows how to get things done. He is attentive, and not to be underestimated."
The night before, Jadon had looked her up on Wikipedia. She was a UCLA professor, specializing in war psych.
"Like Cortázar," she continued, "José Moreno, the head of the cartel Los Eternos, has great sway over Cordova—"
"The Eternals, huh," said Billy Ganaway.
"That's what they fancy themselves as. Makes you laugh, doesn't it? Anyway, the punks are channeling large amounts of cocaine into the American heartland. There's been no major conflict between the dictatorship and the cartel. They're essentially keeping each other in check, each unable to get a grasp of the extent of the other's power. But it's definitely a touch-and-go situation."
"A mother lode of tin has been discovered in the mountains," said Professor Eugene Kowalchuk. "Many companies from all over the world would jump at the opportunity if the country solicited for development assistance, with political stability and lasting public order as the conditions of doing business. The hope is that they can eventually develop by their own power at some point. There's actually a bunch more underground resources that are promising too. They'll be needing foreign investment and technical assistance for sure though."
Next to speak was former presidential aide Tim Daniels. "Just talking poli sci here, but I think the next president ought to be Luis Escárcega. The guy's a class act, and everybody in the country loves and respects him. But he's being held prisoner as the rebel ringleader. If we spring him and put him on top of the revolution, we can secure the support of the people and the other anti-government forces."
Daniels filled them in on the makeup of said anti-government forces. At present, the largest was the Revolutionary Army, also known as Nueva Cordova, which was headed by former Army Captain Sebastian Loyola. Six years prior, he'd grown disillusioned with the direction of the country under Cortázar, escaped from the military (taking several of his subordinates with him), and formed the Revolutionary Army. While a stern man, he was also a man of integrity who said what he meant and meant what he said, and more than worthy of their trust— or so vouched Antonio Alvarado.
Nueva Cordova comprised around two hundred people, but it enjoyed wide support among all regions of the country, and could presumably multiply its ranks tenfold if called for.
Various voices streamed in through the mic.
"Professor Escárcega is loved and believed in by the whole populace. If he calls out to Cordova, the people will rise up. There's a fair number of his former students in the military, and lots besides who support him in secret. That's why Cortázar's got him behind bars—and his head on the chopping block."
"So we break him out and set him up as the leader of Nueva. That's the easiest way."
"But we don't know if Luis is up to it. Going by the intel I've gathered, he's been in shackles for so long he's gotten weaker both mentally and physically."
Suddenly, Jadon got on his feet. Now everyone's eyes were on him.
"I get the gist of Cordova's situation. And I know what you people are trying to do—using AI. So how many boots on the ground and guns in holsters is it gonna take to topple Cortázar and wipe out the cartel? You just gotta run some numbers through the AI and you'll have your answer, right?"
Their eyes roamed in search of someone who'd reply to Jadon's question. It was Nick Beasley who spoke up. The merc training company consultant had a scar running from the back of his left hand up his arm. He was famous in the industry, and a friend of Stewart's.
"Los Eternos have an estimated 1,500 combatants. They've got the latest weapons too. No other group can hold a candle to them. The military is 12,000 strong. The president's guard will be a much tougher nut to crack. They're not elite by any stretch, but it's got three hundred people. By comparison, Nueva's got maybe two hundred."
"That's pathetic. What the hell strategy can we even use?"
"That's why we need to pick the brain of a top-notch commander. Though maybe you aren't up to the task after all," said Nick, shooting Jadon a prodding look.
Moreno, the kingpin of Los Eternos, was once a vice commander of the president's guard. In addition to former colleagues and subordinates, he employed soldiers and police officers at high salaries. Their main source of funding was through the production, refinement, and sale of drugs—mostly cocaine. They also profited through ransoming and selling stolen goods. Los Eternos clawed their way to supremacy in Cordova's underworld on a mound of corpses, with more than a thousand total casualties on both sides of the war against their erstwhile rival cartel. Their monthly revenue often reached the 60 million USD range, and Moreno himself possessed $4 billion. Los Eternos were known for their various acts of cruelty, like the kidnapping, torture, and murder of peasant farmers who declined to grow narcotics. Needless to say, both the US and Mexican governments had prices on Moreno's head.
"The crux of the operation isn't just taking the government by force. Our ultimate objective is democratic nation building," said John, standing up to calm the two down.
The central screen displayed descriptions of Cordova's manufacturing, agriculture, and other industries, as well as detailed figures on production and the country's existing conditions. John and the specialists from each relevant field had worked together to analyze and quantify every corner of Cordova, and to run a simulation for a functioning, independent state. They were among the world's top experts.
"They're actually making lots of money, surprisingly. What's failing Cordovans is production and distribution," said John, as he glared at his computer.
"In just Moreno's and Cortázar's bank accounts, two years' worth of the national budget is stockpiled," said Tim Daniels, amazed.
The meeting ended in around two hours. It mostly involved going over the whats and wheres of Cordova, and the time schedule they were to follow.
The second Jadon returned to his room and hit the hay, he heard a knock.
In entered Stewart and a nurse. Stewart took out a new smartphone.
"I'll be holding onto your phone until after the end of the operation. I transferred all of your data into this one. It's tap-proof."
"It's not just Cordova that's affected, huh? There are other countries who'd be interested enough to intercept our communications?"
"It's for assurance's sake. We can't be slapping more stuff to worry about on the president's desk."
Stewart signaled the nurse. Brandishing a syringe, she drew closer to Jadon. "Your arm, please. Every participant in the operation's accepted the shot." A cylindrical capsule, 0.4 inches long and 0.08 inches in diameter. "It's a transmitter. It'll tell us where you are, and the status of your vitals."
"And once the operation's complete?"
"We'll take it right back out of you, of course." Jadon gave her his arm.

* * *

In a room at the FBI Academy stood a fresh new face for the force, Adán Solano. The special agent was training in video analysis under the guidance of his superior, Vanessa Smith. He'd also learned the ins and outs of how to use facial recognition software.
Recruitment exams for the FBI were said to be more challenging than the bar exam in many states, demanding applicants to have skills on par with holders of advanced degrees—such as Juris Doctor.
"This isn't what I became an agent to do. I want to arrest serial killers and kidnappers. I want to take down evil crime syndicates," he told her.
He'd already been glowering at the computer display for nearly three hours now, and he was fed up. A twenty-six-year-old second- generation immigrant from Chile, Adán graduated from MIT's Department of Electrical Engineering and Computer Science, before attending a State University of New York law school. Focusing much of his interest on the issue of immigrant crime, he'd spent thirty minutes in his interview about his opinions on the subject, including illegal immigration. The government and related organizations should work together to fight against the issue on a more fundamental level. It wasn't exactly a new take, but his enthusiasm and earnest desire to persuade the listeners earned him points. Vanessa, a thirty-five-year-old black woman, had been one of his interviewers.
"Good detective work's always just a series of low-profile inquiries stacked together, so I need you to do what your boss tells you to do. Your supervisor's nothing if not competent."
"Well, apparently having competent supervisors isn't reducing America's crime rate any. We need more active agents—"
"Real-life agents and police officers aren't like the ones you see in movies and TV. The vast majority go through their entire careers without firing a bullet at a single soul. I haven't had to, either—not yet. And that's something to be grateful for. We've reached the age of science-based forensics, computers, and AI. Leave the cuffing to bigger, beefier guys. We'll be here using our heads over our guns."
"And staring at hours of video footage is using our heads?"
"This is so you recognize how useful artificial intelligence can be. But you can't leave it all to robots just yet; you've got your human pride to uphold."
For this training exercise, he had to make use of facial recognition software based on the most cutting-edge AI advancements to pinpoint a wanted criminal in the crowd at JFK Airport—a task nigh on impossible for the unaided eye. In two hours of staring, he just couldn't find someone who fit the description. If he didn't know better, he'd call this training an excuse to bully him, because Vanessa had tracked down the perp in three minutes using AI.
Vanessa's phone rang, and she glanced his way as she got up. "Find the guy before I get back. Don't throw in the towel against the AI," she said, giving him a pat on the shoulder before taking her leave.
Just as Vanessa had instructed, he looked into the vicinity of the international arrivals gate using his own eyes, as well as conventional facial recognition software not loaded with AI.
Thirty minutes passed, and he was nearing the limits of his patience. He stretched, only for the screen to display the file list of past recordings. He clicked on one of the files more or less at random. It just so happened to be The Tragedy at The Wall.
A year ago, when Adán had been a law school student, he'd glued himself to the TV watching news of the sorry affair unfold. As a second-generation immigrant himself, the incident hit a little close to home.
"Jesus Christ," he muttered, without meaning to.
It was helicopter footage of the soldiers firing on the refugees rushing up The Wall. The audio consisted of the whir of propellers and gunfire, lots and lots of gunfire. A shriek from a female reporter could also be heard. And at the base of The Wall, countless bodies, most of which belonged to women, children, and the elderly.
A man was standing up, holding a girl in his hands and screaming. Adán switched the vantage point to a worm's-eye view. The man was speaking in Spanish: "America's killed my wife and daughter. They are the devil. I will have my revenge. I will kill you all."
They weren't words to live by, but with that level of carnage, Adán could understand.
He clicked replay. Something was nagging at him about the video. It was different, somehow, from what the media had put out. Was this footage never made public?
The first gunshot . . .
Adán opened the other files, leaning closer to the screen. "I've never seen that," he exclaimed.
While FBI Headquarters were run out of the J. Edgar Hoover Building in DC, the Laboratory Division and the Operational Technology Division were across the Potomac in Quantico, Virginia, as was the FBI Academy, located within Quantico's Marine Corps Base. With many branches (namely, the Intelligence, National Security, Science and Technology, Information and Technology, and Human Resources branches, as well as the Criminal, Cyber, Response, and Services Branch) and with fifty-six field offices, the FBI had the wherewithal to investigate terrorism, espionage, federal corruption, cases involving multiple states, and large-scale burglaries, among other crimes.
The Oval Office was situated in the White House's West Wing. The president's family lived in the East Wing.
President Copeland tapped his smartphone, but only after making sure no one was around.
Bob was fifty-two years old, and a Democrat. His daughter, Patricia, was born when he'd been nearly forty, and he doted on her with abiding affection. It had already been a year since she'd told him she hated him. He believed their relationship was mended, at least on the surface, but the Tragedy at The Wall was now taboo.
"Is this line safe?"
"Our security's perfect, Mr. President. If there's ever a problem, it's on the White House's end."
"We're using you for our security. And please, John, when it's just us, call me Bob."
"Understood, Mr. Pres—Bob."
The president got up off the sofa and sat back down on his desk's swivel chair. "I wanted to ask you about Operation Caravan. You messaged me that the last piece of the puzzle's in place, and that the operation's a go?"
"Captain Green arrived yesterday. He refused at first, but we convinced him to join."
"I read up on his army track record. I feel guilty that his life turned into a mess after the Tragedy too. I mean, to get hit with a dishonorable discharge . . . But is it really wise to send him to Cordova? He was the captain when the Tragedy happened."
"I have no idea. It was my father-in-law, his former superior, who recommended him. The colonel believes in him."
"I still remember Catrina and Rose. It was such a crushing loss. Is it because of that attack that you're supporting me now?"
"The world we live in is full of contradictions and absurdities. That was one of them. The Tragedy at The Wall was another. People with their whole lives ahead of them can die out of nowhere, just like that. And if there's one absurdity I'd like to fix, it's that one."
"Usually, we'd send in the Army, but . . ."
"That's not an option. That is, unless you're willing to give up on reelection in favor of congressional hearings."
Bob was at a loss for what to say. There were times he honestly thought he should do just that. But it wasn't as though America had won every fight it'd been in. In fact, the country had racked up more failures than victories—Vietnam and Afghanistan came to mind. And why?
It was the guy before me who built The Wall. And it didn't just divide nations. It also divided people.
"This operation will be in the hands of Cordovan nationals. We're just providing an assist. It won't surface."
"Right, you're right. America's time to shine comes later. We're going to aid the new Cordova—not through weapons, but through the spirit of economic development and peace."
"The preparations to make that happen have already been made, Bob. Besides, this operation isn't just Cordova's. It's also for America's sake."
In recent years, the number of illegal immigrants had exceeded seventy thousand. Cases where people turned themselves into the border guards after crossing and applied for refugee status were on the rise. The US legal system allowed people to stay and work in the United States during their screening process after applying. In addition, more than half of the people or groups had children with them. The presence of children made their detention periods shorter.
Most illegal immigrants came from Central America, and the Texas facilities boarding them had been exceeding capacity for a long time. They were pulling through thanks to the efforts of churches and volunteer organizations offering the meals, clothes, and transportation methods they needed.
"It's as you say. And ultimately, it'll benefit the whole world. New measures will be taken against the global refugee crisis too."
The global refugee count was now at nearly thirty million, including Syria, Afghanistan, South Sudan, Somalia, the Democratic Republic of Congo, and Myanmar. And if one added people who couldn't cross any borders—remaining within their countries of citizenship in camps after losing their homes due to civil war, violence, or disasters—that figure more than doubled. More than 370,000 had been killed in Syria, and thirteen million were roaming the war-torn country. Of these, five million had fled their hometowns and lived as refugees in foreign lands like Turkey, Jordan, and Iraq. Many had crossed borders on foot, or crossed the Mediterranean by boat to reach Europe. Iraq, the new home of many of those refugees, was nearing its breaking point, with internal strife lasting years and years. Approximately a third of the refugees were children. Malnutrition, forced marriage, and violence at evacuation destinations were often brought up as serious issues around the globe.
"I'm grateful, and I pray that you and your fellow fighters will be rewarded for your bravery."
With that, he dropped the line. The president looked out on the yard for a few moments.
The scene from a year earlier came unbidden to mind once again. Patricia watching the footage with tears in her eyes. The words "I hate you!" hanging sadistically in the air. Never would he forget her expression, her tone.
At present, Patricia was behaving no differently from how she had before the incident, but she did turn a dubious eye toward him from time to time. He knew it wasn't just his imagination.
The southernmost region of the United States shared the same climate and geology as Mexico, and yet there was great economic disparity between the two. Many Mexicans and Central Americans were in the United States in search of work. The former president had erected The Wall based on the idea that illegal immigrants were taking
jobs from American citizens and committing crimes, but The Wall had done nothing to curb the numbers. The root causes—economic inequality and political instability—remained unaddressed.
Eliminating illegal immigration, then, required the stabilization of the respective political realms of Latin America, and an across-the- board increase in the countries' economic power. In Cordova's case, they needed to destroy the cartel and rescue the citizens from the pit of fear and brutality. Then they'd have to remove the dictatorship and release the people from its tyranny. But neither the United States nor the United Nations could actively intervene in the nation's domestic affairs.
During the Arab Spring, dictatorships had collapsed almost by chance, but several new powers soon swooped in to fill the vacuum, sparking yet more pain and strife. John and the others were trying to raise Cordova to its full potential, down to creating a new system and revitalizing its economy. If they succeeded, it would serve as a model to forever look back on.
The president's eyes turned to the desk calendar to check the date. John had told him the operation would span twenty days. He took a pen and marked the date.

* * *

-----Continue to buy a book.